BERRY'S JEWELLERS – NOTTINGHAM
A new store brings with it new opportunities. From the design stage, Parify were consulted to create a lighting scheme that is economical to run, gives the perfect ambience, but also allows jewellery to be displayed in its true colours. The interior of the shop is lit almost everywhere using the Parify PRAIL family of luminaries, with a chosen colour temperature of 4500 & 5000K, beam angles are almost exclusively 30 degree, which, considering the height of the ceilings offers a perfect blend of lighting and ambience. 28 of our '15 degree' beam angle PRAIL 40-4 LED down-lighters were the light of choice for the watch windows, offering high levels of concentrated light, exactly where it is needed, without the hefty running costs of Metal Halide lamps. These are accompanied perfectly by the USL -25 undershelf luminaire, giving a seamless blend of light from the soffits to the floor.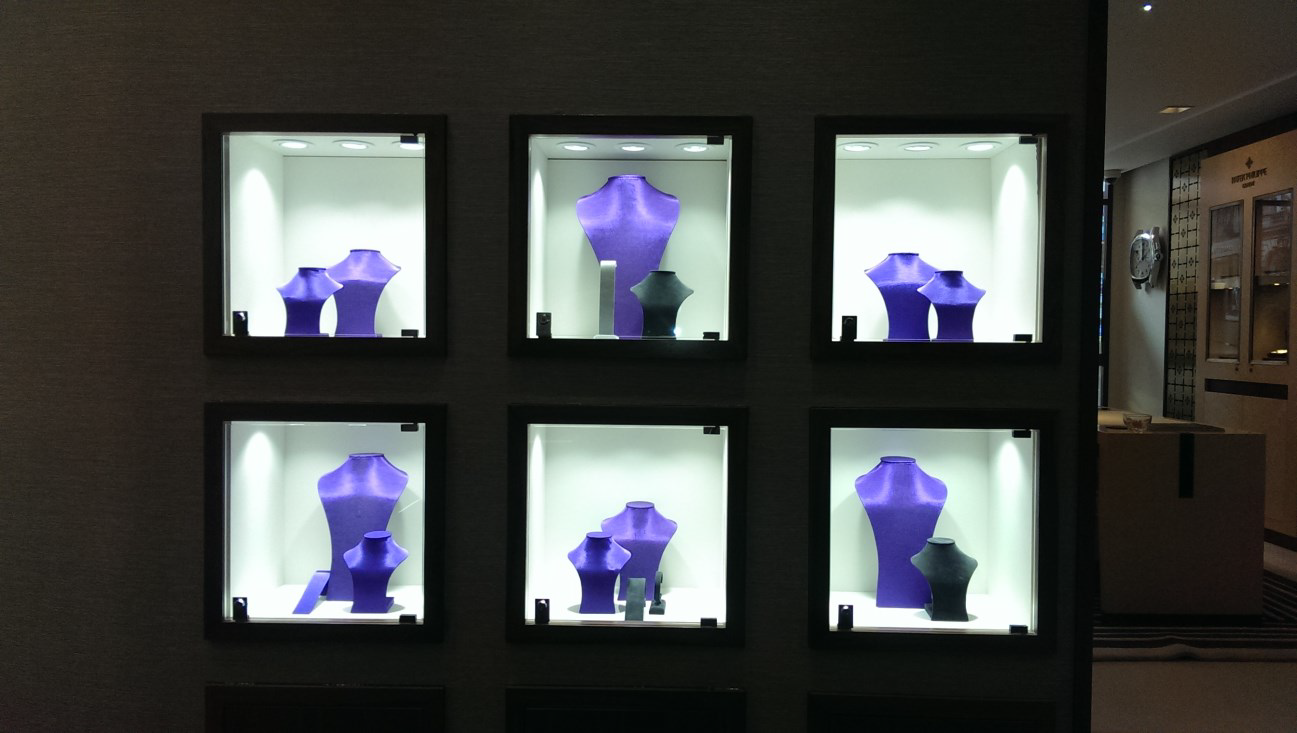 Internal cabinets also benefited from the Parify Prail family, with groups of 3 x Prail 6-2 lamps installed in each cube to create the stunning display that you see above. 5000K colour temperature lights not only bring the jewellery to life, but keep temperatures to an absolute minimum.
Simon Oxby said: We approached Parify to provide the lighting in most areas of our new Nottingham store after using them in two of our other stores. The quality, performance, cost and energy saving of the lights is exceptional and we will be using them in any future shop fits that we may carry out. Simon Oxby, Operations Manager
Conclusions: Since the installation of the new lights, the store is significantly cooler than a typical store of this size, therefore making it a much more pleasant environment for the staff to operate in. The visual aspects of the displays have been commented on by all staff, if the staff notice, the customers of the store will also notice outstanding colour rendering, sparkle in jewellery and the level of clarity that enables purchasing decisions to be made.